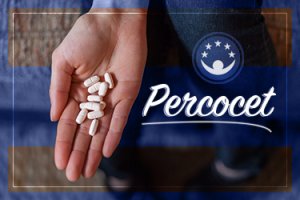 Dangers of Percocet Use and Overdose Percocet is the brand name of an opiate pharmaceutical drug that is The usually prescribed to relieve moderate to severe pain, according to the U.S. National Library of Medicine.
Percocet is also prescribed to individuals suffering from chronic pain. Percocet contains oxycodone hydrochloride, which influences the brain's perception of pain, and acetaminophen, which inhibits pain-related chemicals in the brain.
Percocet may induce serious side effects if used improperly, and it is one of the most common abused prescription drugs. Prescription painkiller abuse is a widespread problem in the US and around the world, with the National Institute on Drug Abuse (NIDA) reporting that over 2 million people in the US suffered from a substance use disorder related to the drugs in 2012. Due to the potential for abuse and addiction with Percocet, the drug's manufacturer, Endo Pharmaceuticals, states in the prescribing information for Percocet that it is normally reserved for those who are tolerant to other opioids or those who haven't obtained pain relief from other sources.
An individual can overdose on Percocet if the drug is taken more often than prescribed, if tablets are crushed or chewed, or if it is combined with other sedatives, such as alcohol or sleeping pills. Overdose is considered a medical emergency. Without prompt treatment, serious health effects and even death can occur.
Long-term abuse of Percocet can lead to addiction, negatively impacting an individual's long-term health, as well as their psychological and emotional wellbeing. Thankfully, comprehensive addiction treatment can help individuals safely withdraw from this prescription drug and stop abuse of all substances.
Even when used legitimately, under a doctor's supervision, Percocet can cause a variety of side effects. If a person experiences these side effects, they should promptly contact the prescribing doctor. In many instances, mild side effects will subside after a few days; however, it's important that the supervising physician is made aware of all issues.
Mild side effects include:
Dizziness
Nausea
Blurred vision
Dry mouth
In other instances, serious side effects may occur. These can be signs of an allergic reaction to the medication. The person should immediately stop taking the medication and contact the prescribing physician. If severe issues present, such as chest pain or seizures, call 911 immediately.
Severe side effects include:
Fever
Extreme fatigue
Chest pain
Hypothermia
Increased thirst
Hypotension or hypertension
Shallow breathing
Slowed heartbeat
Feeling lightheaded or fainting
Confusion or unusual thoughts or behavior
Seizures
Jaundice (yellowing of the skin)
Problems with urination, including dark urine
Gastrointestinal problems, including diarrhea, nausea, vomiting, or loss of appetite
Visual disturbances
Insomnia
Anxiety, agitation, or nervousness
Hallucinations
Depression
There are certain populations that are more at risk of experiencing negative side effects from Percocet. There is an increased risk of birth defects in the babies of mothers who use Percocet during their first two months of pregnancy. Elderly individuals, those with head injuries, and debilitated individuals have an increased risk for respiratory depression when taking Percocet, as do those with asthma, chronic obstructive pulmonary disorder (COPD), or respiratory impairment.
Individuals struggling with an alcohol use disorder are at an increased risk of experiencing acute liver failure due to the acetaminophen component of Percocet. If a person takes too much acetaminophen or combines its use with alcohol, it puts too much stress on the organ, often leading to long-term damage or even failure.
Percocet Abuse
When abused, Percocet can produce a sense of wellbeing, euphoria, and pleasure. This is because the drug influences regions of the brain involved in reward and pleasure.
Although Percocet is often viewed as safer than illegal drugs, it works in the body in the same way as illicit opioids like heroin. As with heroin, tolerance to Percocet forms quickly, causing people to take increasingly higher doses of the drug to feel the same effects once experienced with lower doses. With continued use, physical dependence also forms quickly, rapidly leading to full-blown addiction.
According to a 2013 survey published by NIDA, 2.7 times more opioids were prescribed that year than in 1991. The US is the largest global consumer of prescription painkillers by far.
While legitimate use of Percocet can induce side effects in many instances, the risks of negative health effects compound exponentially when the drug is abused. As with most substance abuse, the severity of the effects increase with chronic, high-dose use. In addition, risks are heightened when the drug is combined with other substances of abuse.
If you aren't ready to talk, but want more information about addiction, you can sign up for Personalized Text Support.
Receive 24/7 text support right away and at your convenience. There is no obligation to enter treatment and you can opt-out at any time.