Heroin is highly addictive. Due to its powerful withdrawal symptoms, those who are dependent on heroin may fare better in medical detox.
More on Withdrawal & Timelines
Heroin Withdrawal Symptoms
Heroin withdrawal will not be the same for everyone.
The longer someone uses heroin, how it was abused, and how much was taken each time will all be factors in how dependent the brain and body are to the substance. Therefore, the severity and duration of withdrawal will differ as well. Someone with a history of mental illness or prior opioid withdrawal may have a more intense withdrawal experience.
Heroin is an opiate drug that suppresses some of the functions of the central nervous system, like heart rate, blood pressure, respiration, and temperature regulation. It also binds to opioid receptors, increasing chemicals in the brain that are responsible for feelings of pleasure. When heroin is abused, a rush of pleasure also occurs. During withdrawal, the effects are the opposite of the intoxicating effects. For example, instead of euphoria, reduced heart rate, and sedation, the individual may experience low mood, anxiety, and rapid heart rate, among other symptoms (see below).
Withdrawal symptoms range in severity in accordance with the level of dependence and duration of abuse.
For someone who didn't abuse heroin in massive doses for months or years, withdrawal may be more tempered and not last as long.
Mild withdrawal symptoms:
Nausea
Abdominal cramps
Tearing
Runny nose
Sweats
Chills
Yawning a lot
Muscle and bone aches
Moderate withdrawal symptoms:
Vomiting
Diarrhea
Agitation
Restlessness
Tremors
Trouble concentrating
Goose bumps
Fatigue
Severe withdrawal symptoms:
Anxiety
Insomnia
Depression
Hypertension
Rapid heart rate
Muscle spasms
Impaired respiration
Difficulty feeling pleasure
Drug cravings
Withdrawal from heroin isn't generally considered life-threatening on its own; however, some of the medical and psychological symptoms may have complications that may be life-threatening.
Depression may lead someone to consider suicide, for example. Heroin should never be stopped suddenly without the support of medical and/or mental health professionals who can employ multiple methods for managing the side effects of withdrawal and keep individuals safe.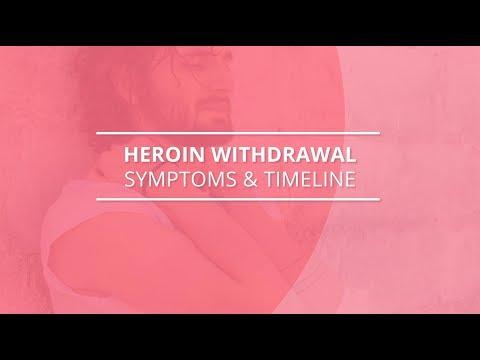 Are you or a loved one struggling with heroin withdrawal symptoms?